Its officially that time of the year again. Fall is here and all the activities that go along with it. Yesterday we went to the first pumpkin patch of the season. Every year as a tradition we go to Brasee Corn Maze and Pumpkin Patch in Wellington. I have taken Ella every year, even when she was two weeks old.
This year was just her and me. We get there and she heads straight for the wooden train that she can crawl all the way from the front to the back. She has an obsession with trains as it is so this just caught her eye.
Then we headed over to the kids straw maze. It just zig zags back and forth. Along the way there are little Halloween decorations to catch the kids eyes and a few blow ups also. All over the maze was grass hoppers. Ella kept stopping to look at them and talk to them. She kept telling them to get out of her way.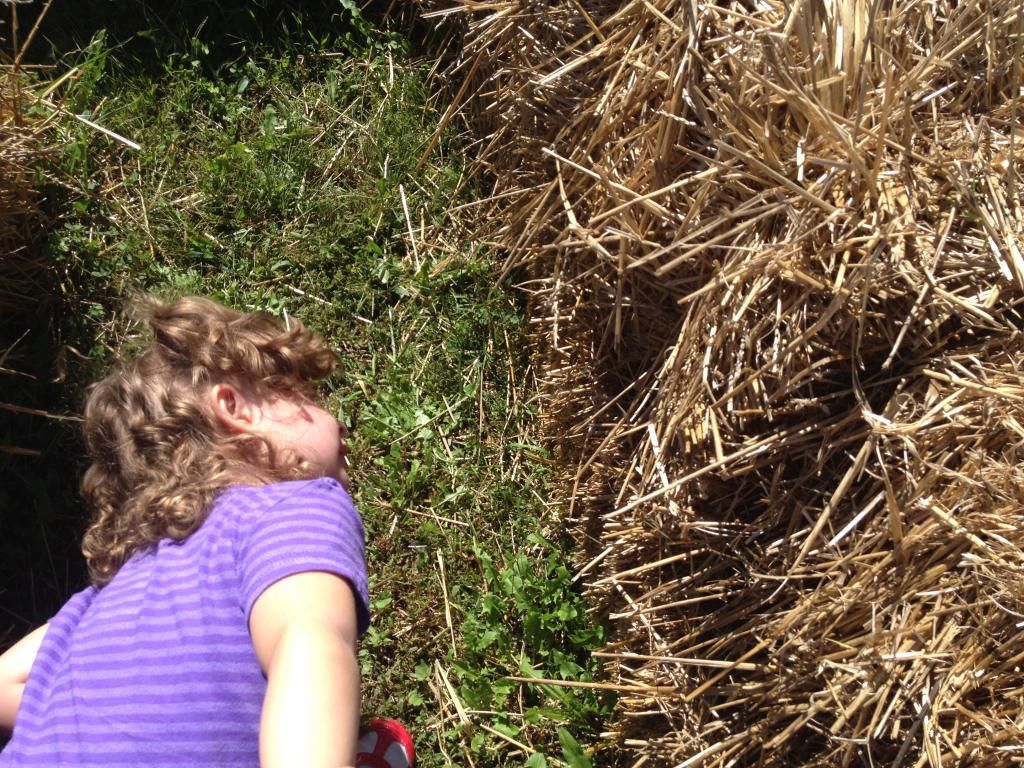 Now came the bad part of the trip. My phone decided to freeze. I have an iphone with touch screen that decided to lock up. I couldn't unlock my phone or turn it off. Where I was at also had no cell phone service (I hate going out to the middle of nowhere) so I couldn't use Siri to try and do speak commands. That also means no more pictures for the rest of the outting. I was more upset about not being able to take pictures than my phone not working right. I couldn't leave just cause I couldn't take pictures. We still enjoyed the rest of our trip.
After the straw maze we went and played in the corn pit. Ella had fun laying in the corn and making "corn angels" and putting it in her hand. She then went in the bounce house. I had never taken her anywhere that had a bounce house before but she had a blast. There were two other kids in there with her. One boy who looked to be 5 or 6 (whose parents were no where to be found) kept jumping right by her so she couldn't stand up and would stop her from getting in and out the bounce house from the slides. I eventually asked the little boy to move so she could get out.
Brasee's has an adult 8 acre corn maze. Ella decided she wanted to venture in there. We lasted 10 minutes before she said "Lets turn around I'm done." Luckily I was able to find the way out. I forgot how long that maze can be. One year I went through it, we were in there 45 minutes trying to find out way out.
For an extra $2 per person we got to go on a horse drawn hayride. Minus the hay and was a really nice comfy wagon. We were the only one on it at that time and had so much fun. The driver kept going faster and would slow down to look back to see if Ella was enjoying herself. She loves the wind in her hair and speed.
The only disappointment was there were no pumpkins in the pick your own pumpkin patch. Due to the horrible winter and not very hot summer they, like many others, didn't have much luck with growing pumpkins. They however did have pumpkins from someplace else for sale.
All in all we had a blast and will continue with this tradition every year.